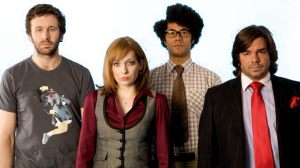 The Ex Makhina team consists in dependable individuals with overlapping and broad-sweeping engineering expertise. They trust each other and work well together, but can also tackle great challenges autonomously.
Thomas Grimault
Partner & CEO
Thomas has 10 years of experience in application engineering and development of embedded software and drivers, mainly for multimedia consumer and industrial products. Over the years, he developed a strong experience in optimizing, debugging and integrating legacy code with new software components. He also spent 5 years in sales and project management positions, where he has to work out the most cost-effective solutions to technical problems.

tgrimault
Jérôme Carretero
Partner & CTO
Jérôme applies computing power, his rigorous and creative mind, as well as a well-furnished toolbox at finding solutions to various kinds of problems. He has extensive experience as a designer and developer of general purpose, simulation, and critical software; he has an affinity for high-performance applications, data processing and visualization, any kind of simulation, control and mechatronics. He is a F/LOSS enthusiast.

zougloub
Denis Margot
Partner & advisor
Denis has 20+ years of experience in the telecom industry dealing with the most important wireless providers in France and North America (GSM, GPRS, UMTS, CDMA…). With a broadband experience in wireless network engineering, installation, deployment and support, he also handled business development and marketing issues together with pricing simulation in RFP/RFQ.
More recently, Denis has been collaborating on several projects in the green industry (biomaterial and fossil fuel free maritime transportation) as a consultant and he was the architect of business model studies in preparing documentation and simulations to get fundings from financial partners. In parallel, Denis supervised the conception, automating and industrialization of a new production process in the oil free biomaterial field leading to the realization and installation of a pilot plant. Denis has also an expertise in intellectual properties.

Stéphane Laroche
Computer Graphics & Markov Chain Monte Carlo Guru
Stéphane is a versatile engineer with varied knowledge of hardware and software and a good science and research background. Being strongly self-taught, he is resourceful in his knowledge seeking to find solution to various problems or just to satisfy an avid curiosity in many areas. He started coding almost two decades ago and has experience in various fields of computer science and engineering, as in system software development, computer graphics, medical imaging and statistical signal processing. He has great creativity coupled with a rigorously analytical mind that likes complex problems.

Philippe Brais
Embedded Software and Avionics Specialist

Philippe will update his bio at some point.
Qingyi Han
Advanced Simulations Consultant
Qingyi (pronounced Tsing'ee) is our simulation specialist. She is a generalist engineer with domain knowledge of electrical distribution and medical imaging technologies. She is also the liaison with Chinese partners.
Réjean Groleau
Embedded Sytems Consultant
Réjean has 15 years of experience in designing building automation products, and has a deep knowledge of both electronics design and embedded software programming. Over the years, he became an expert in wireless mesh networks and standard wired networks, able to obtain amazing results from small cost-effective platforms.